Pin-Belegung
Warnung ! Alles, was Sie mit ihrem Handy anstellen, nachdem Sie dieses gelesen haben, machen Sie aus eigener Verantwortung. Ich übernehme keine Verantwortung für Schäden an Ihrem Handy, Ihnen selbst oder an sonst irgendetwas in Folge dieser Informationen. Wenn Sie das nicht verstehen, rate ich Ihnen, diese nicht auszuprobieren.
Nokia 8110 Pin-Out diagram


1 GND - Charger/System Ground
2 V_OUT - Accessory Output Supply (Min/Typ/Max - 3.4 ... 10V Output Current 50 mA)
3 XMIC - External Microphone Input and Accessory Identification
Identification
TYP/MAX: 8... 50mV (The maximum value corresponds to 0dBm
network level withminput amplifier
gain set to 20 dB, typical value is maximum value -16dB)
ID Accessory Identification
* 1,7... 2,05V Headset adapter connected
* 1,15... 1,4V Compact hands free unit connected
* 2.22... 2,56V Infra red link connected
4 EXT_RF - External RF Control Input
Min/Max: 0... 0.5V External RF in use
Min/Max: 2.4... 3.2V Internal antenna in use
5 TX - FBUS Transmit
6 MBUS Serial Control Bus
* Logic low level: 0... 0.5V
* Logic high level: 2.4... 3.2V
7 BENA - Not Connected
8 SGND - Signal Ground
9 XEAR - External Speaker and Mute Control
* Min/Typ/Max: 0... 32... 500mV
(Typical level corresponds to -16dBM)
Network level with Volume Control in Nominal Position 8dB Below Maximum
Maximum 0 dBM Maximum Volume Codec Gain -6dB)
Mute ON (HF SPEAKER MUTE): 0... 0,5V d.c.
Mute OFF (HF SPEAKER ACTIVE): 1,0... 1,7V d.c.
10 Hook - Hook Signal
Hook Off (Handset in use): 0... 0,5V
Hook On (Handset in use): 2,4... 3,2V
11 RX - FBUS Receive
* Accessory FBUS Receive Signal
12 V_IN - Charging Supply Voltage (Max 16V)
M2BUS Cable Schematic
This cable is the same for all Nokia phones.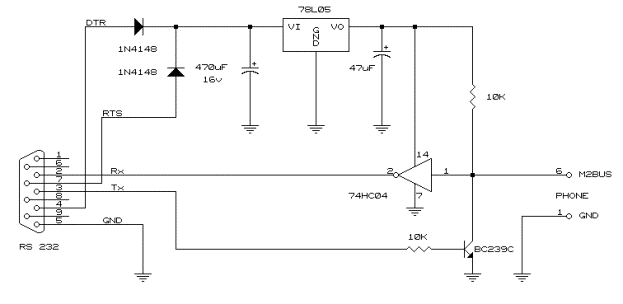 NCDS Interface Schematic for Nokia 3110, 8110, 8110i